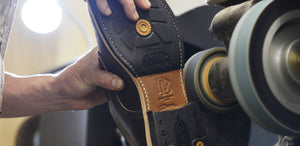 Léon Denim x Brother Bridge Tokyo Collaboration
---
Important Note: The MTO Signup closed from Oct. 5, deliveries to customers who ordered will commence January 2021.  Thank you to all who ordered.
Heritage lifestyle brand Leon Denim based in the Philippines has teamed up with renowned Japanese shoe and boot maker Brother Bridge Tokyo on a new collaboration of a very limited MTO release slated for ordering from Sep 6-30, 2020 with customer delivery slated for January 2021.  This is an exciting development as it is the first time that these 2 brands are coming together to co-develop products that are consistent with their respective brands' defining design and heritage ethos.  Both companies have a shared passion for heritage, craftsmanship, and fine attention to detail and we are very excited to share the outcome of this work.
Important Note: The MTO Signup closed from Oct. 5, deliveries to customers who ordered will commence January 2021.  Thank you to all who ordered.
The shoes we jointly developed for this collaboration are inspired by prototypical WW2-era military footwear  that are regarded as classics up to this present period.  The design and selected raw materials are of the type that develop interesting character upon continuous wear, are guaranteed to last over time, and are very versatile.
The first MTO offering is Captoe Service Boots in handsome Black Himeji Teacore Horsehide Leather, in Brother Bridge's B204 last. The sole is made of full black leather material and heels developed by Dr. Sole Originals specifically for this and are an integral part of this collaboration. 270 deg-Goodyear-welted construction, 6 eyelets/4 speed hooks and flat-waxed laces are also all in black.  The choice of teacore leather will render that distinctive patina that comes with using these boots over time.  Also it is worth mentioning that this type of leather was a typical choice for military boots from the time they were first introduced.
The second offering is Plain Toe Derby Service Shoes in exquisite Shinki-Hikaku burgundy shell cordovan, in the B234E last.   It is in a half-sole setup developed also by Dr. Sole Originals – midsoles are vegetable tanned and outsoles and trooper heels are made of hard-wearing rubber.  
The sourcing of Shinki-Hikaku shell cordovan and horsehide leather from Himeji City in Hyogo-Cho, Japan is a deliberate choice. This company is regarded as the world's leading tanner of horsehide, renowned for their leather's outstanding features and exceedingly high quality.  Shinki cordovan is also scarce and takes a long time to prepare, making it very desirable and a top choice of leading shoe and apparel manufacturers.  With this collaboration, the customer is assured of only the finest materials and thoughtful construction coming together in this unique collaboration between Leon Denim and Brother Bridge.
The MTO is limited globally to only  20 pairs for the Captoe Service Boots in horsehide and also 20 pairs for  PTB Service Shoes in shell cordovan.   
For any questions, pls. contact Raul Lejano via email: hello@leondenimph.com
---
---